Home
Welcome on the website of the Graduate Gender Programme of Utrecht University. This website will help you navigate through the information provided on the Utrecht University websites. If you still have any questions please contact us.

Call for applications: Erasmus Mundus Master's Degree in Women's and Gender Studies – GEMMA
Erasmus Mundus Master's Degree in Women's and Gender Studies (GEMMA), is a two-year postgraduate interdisciplinary study programme that provides high quality education and professional competencies for personnel working or intending to work in the areas of Women's Studies, Gender Studies and Equal Opportunities across Europe and beyond. Students benefit from international mobility as they study at two different European universities and obtain a double diploma from the Home and Mobility institutions. The new call is now open. This call has scholarships for non-European students only! Deadline is February 3rd, 2020. Start of the programme is September 2020). See for more info the flyer or the website. There will be a second call for applications for self-funded students in Spring 2020.
On the occasion of International Women's Day 2019, the GEMMA Master has been included among the ten Erasmus+ projects that have contributed the most to gender equity and empowerment of women. See here and here!
UU Graduate Gender Programme exhibitions 2019:
Exhibition: Footnotes on Equality – in collaboration with Casco Art Institute Utrecht.
Exhibition by MOED: What is left unseen – in collaboration with Centraal Museum Utrecht and the research team of MOED: Museum of Equality and Difference
Diversity at Utrecht University
Utrecht University stimulates diversity and inclusion within education, research and the organisation. A diverse community of students and teachers contributes to an inspiring and challenging learning environment. In addition, this is a good preparation for working in a pluriform society. Diversity enriches the academic debate and contributes to an intensive cooperation and exchange with social organisations. Utrecht University considers it important to contribute to bridging opposites and creating equal opportunities for all. More information here
Vrouwennetwerk UU
Het Vrouwennetwerk Universiteit Utrecht is een informeel netwerk van vrouwen (en enkele mannen) werkend of studerend aan de Universiteit Utrecht. Iedere UU-er met interesse in of betrokkenheid bij genderdiversiteit kan zich kosteloos en vrijblijvend aanmelden: vrouwennetwerk@uu.nl.
Pandora is het magazine van het Vrouwennetwerk Universiteit Utrecht. Pandora laat zien waar het Vrouwennetwerk voor staat: het belang van (gender)diversiteit binnen een wetenschappelijke én bestuurlijke context, de bewustwording van stereotyperingen en hun gevolgen, en de zichtbaarheid van vrouwelijk talent. Het tijdschrift verschijnt tweemaal per jaar en is gratis voor UU'ers. Abonnee worden? Stuur dan een email naar vrouwennetwerk@uu.nl.
Publications: Doing Gender in Media, Art and Culture – A Comprehensive Guide to Gender Studies (Routledge 2017)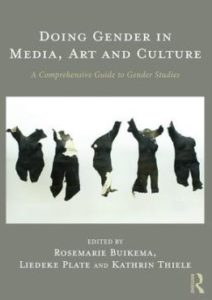 Doing Gender in Media, Art and Culture – edited by Rosemarie Buikema, Liedeke Plate and Kathrin Thiele – is an introductory text for students specialising in gender studies. The truly interdisciplinary and intergenerational approach bridges the gap between humanities and the social sciences, and it showcases the academic and social context in which gender studies has evolved. Complex contemporary phenomena such as globalisation, neo-liberalism and 'fundamentalism' are addressed that stir up new questions relevant to the study of culture. This vibrant and wide-ranging collection of essays is essential reading for anyone in need of an accessible but sophisticated guide to the very latest issues and concepts within gender studies. For more info read here.
The German version Doing Gender in Medien-, Kunst- und Kulturwissenschaften, edited by Rosemarie Buikema and Kathrin Thiele was published in 2017 by LitVerlag. For more info read here.
Revoltes in de Cultuurkritiek – Rosemarie Buikema (AUP 2017)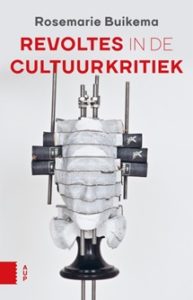 Revoltes in de cultuurkritiek staat de relatie tussen kunst en politieke transitie centraal. Van Virginia Woolf en Louis Couperus, tot aan Marlene van Niekerk en William Kentridge hebben kunstenaars en intellectuelen zich de afgelopen anderhalve eeuw gebogen over de vraag: hoe moeten we omgaan met een erfenis van uitsluiting en onderdrukking? Aan de hand van concrete kunstwerken demonstreert Rosemarie Buikema welke antwoorden op deze vraag geformuleerd zijn. Zij laat zien hoe kunst iets nieuws in gang kan zetten en sociale en culturele verhoudingen duurzaam kan veranderen. Zo kan kunst fungeren als een effectieve vorm van cultuurkritiek. Steeds opnieuw blijkt dat vernieuwingen en omwentelingen in kunst en maatschappij de meeste kans van slagen hebben als zij zich niet als een radicale breuk met het verleden presenteren (revolutie), maar als een proces waarin de kennis over het verleden wordt onderzocht, aangevuld, gecorrigeerd en/of omgebogen (revolte).
Voor meer informatie klik hier.
Contribution to publication Beperkt Zicht from Women Inc.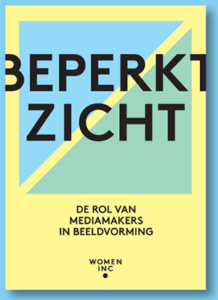 Women are less common in media than men. Research from the Commissioner of Media shows that between 2010 and 2015 their participation in TV-shows from public broadcasting  has even decreased. Commissioned by Women Inc. the UU Graduate Gender Program together with Atria dove into the current state of affairs regarding the representation of women: how often do they appear in the media, in what role and are there differences between several media (television, radio, newspapers, online newssources, social media)? The publication Beperkt Zicht (only available in Dutch) can be found here.